Posted on June 11, 2021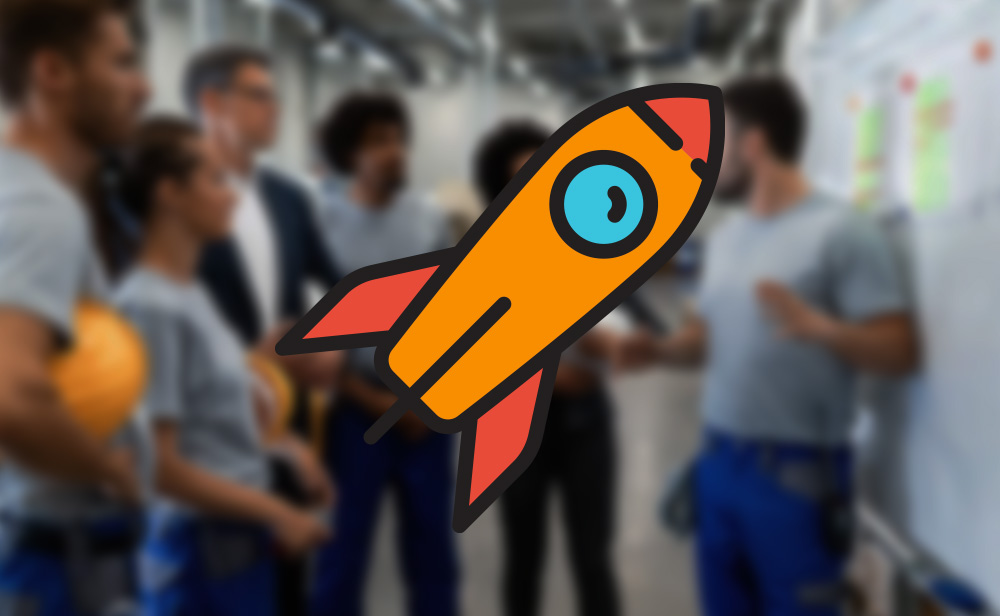 Can Marketing Give You an Advantage in Today's Desperate Search for Manufacturing Employees?
While there are many causes, there is little doubt that manufacturing companies today face a massive challenge to find employees. As post-pandemic demand grows across industries, it is common to hear of manufacturers struggling to fill orders and passing up millions of dollars in new revenue because they lack the people to do the work.
The situation is triggering a desperate search by HR departments to find more effective ways to reach and attract candidates. Many are turning to internal or external marketing resources to access specialized tools and strategic, creative and production talent that can boost their recruitment efforts.
Better marketing may not be able to make candidates appear out of nowhere (at least not yet!), but it can give you an advantage over other companies fishing for workers in the same small pond…and that may be all you need to keep production moving and customers coming.  Like the story of the two guys being chased by a bear in the woods—you don't have to outrun the bear, you just have to outrun the other guy.
Here are some of the marketing essentials manufacturers should focus on to increase their recruiting success:
Target with precision
Highly targeted digital advertising platforms make it possible for you to reach people who match your specific candidate personas. Do the most likely candidates for your operation come from certain parts of town, have a high school degree, live in rental housing and have an interest in automobiles and mechanics? You can target them. What about people with specific education, experience or certifications? You can target them. Maybe people who currently work at your competitors, or those who grew up in your area, but are now working in similar jobs somewhere else and may be looking for a reason to move home? You can target them, too.
With this ability to target, consider how you could personalize your outreach to each specific segment. Headlines, copy, photos and other creative elements can all be automatically adjusted to reflect individual characteristics. For example, a direct mail campaign using an individual's address to point out their exact commute distance to your facility.
Craft your messaging with care
It's no longer enough to just say "we're hiring". As you compete for candidates against so many others, including high-profile companies, you must communicate what sets your company apart and makes your job more desirable. Share stories of your people and their feelings about the company or what they've learned. Highlight your company culture. Recognize that the pandemic and today's major social issues have workers more concerned about workplace safety and values than ever.
Importantly, your messaging must be produced in a way that sets you apart and effectively represents your company's broader brand. First impressions matter and with so much competition for workers, the quality of your messaging needs to stand out.
Build your employer brand
Companies have always been cognizant of the need for Public Relations expertise to help strengthen their brand within their industry, but those skills can also be used to improve recruiting. An effective recruiting PR program for manufacturing workers can include:
Outreach to local high schools, vocational schools and technical colleges to provide workshops, training programs or presentations about careers in manufacturing.
Trial or limited time co-op programs set up and promoted with specific schools, churches or other groups.
Training or apprenticeship programs built in conjunction with agencies or organizations that support veterans or ex-inmates transitioning to the workforce.
A strong employer brand program can help you build relationships that provide an ongoing pipeline of worker candidates for your manufacturing company.  
Engage your current employees
More than likely, your HR department has tried to encourage and incentivize candidate referrals from your current employees. But there may be opportunities for Marketing to amplify those efforts.
Take social media. Make sure your employees are aware of the company's social media recruiting posts and encourage them to follow/like/share those posts with their network, even adding comments as they do. For your part, create and provide recruiting content (e.g., images, photos, gifs) the employee can easily share and embed unique tracking code that gives them credit when someone responds or applies from their post.
Communicate regularly with your staff about the need for them to participate, and the benefits that accrue when they do (e.g., filling open positions enables more scheduling flexibility, raises corporate performance and revenue sharing). This can include employee emails, landing pages and attention-grabbing displays or signage in the facility.
Make it simple
Today's workers, particularly those in younger age groups, are conditioned to technology that simplifies everything. Your recruiting marketing assets should recognize and take advantage of that.
Start with the career area of your website. Is it engaging, easy to use and up to date? Can a visitor easily find answers to common questions? A live chat function may be very useful to qualify and advance their interest. Is there an opportunity to host and promote "no appointment needed digital office hours" to engage with prospective candidates?
Consider how texting can make it easier for candidates to engage. We all know that mobile has become the dominant interaction platform for many types of people, particularly younger "deskless" workers. According to one study, adding text-to-apply (a shortcode phone number that makes it easy to complete a job application via text message) can produce an increase in deskless candidates by up to 53%. At the very least, adding a text response option to your recruiting ads and posts can drive up engagement.
Automated scheduling is another way to simplify things for candidates. With one of many interview-scheduling tools (from robust platforms like GoodTime and Yello to basic free tools like Calendly), candidates can instantly reserve a time based on your interviewer's calendar availability. Automated reminders can be incorporated to decrease no-show rates. 
Nurture your relationships
Marketers understand the importance of sustaining engagement with prospects over time. Many of the same principles apply to recruitment marketing, as candidates often consider their situation, or change their thinking, over time. Consider setting up automated remarketing campaigns to individuals who visit the jobs areas of your website. Encourage prospects to provide mobile and email contact information to be alerted to new job postings or other information. Use periodic questioning – via text or email – to gain more insight and use it to personalize your messaging to them (e.g., what's most important to you: flexible scheduling/safety and culture/training and advancement opportunities/etc.).
It may be wise to include former employees in your nurturing process. You never know when someone may be open to coming back.
In all likelihood, today's acute need for workers is not just a temporary situation brought about by the pandemic or pent-up demand. A study reported by LinkedIn shows manufacturing jobs rank dead last in career choices among the 18-24 year old set, while recent research from Deloitte forecasts 2.1 million manufacturing jobs will go unfulfilled by the end of this decade.
The implication is clear: there is a critical and growing need for manufacturing companies to include Marketing experts in their recruiting and workforce development initiatives.
About the Author
Barry Rosen is a Partner and Chief Integration Officer at Communica. For help with your recruitment marketing or to speak with a Communica marketing strategist, call 419-244-7766 or email marketing@thinkcommunica.com.