Brand development, identity and logo creation, and creative strategy are the core of the many Communica strategic and creative services that informed the international launch of Auria Solutions, a new leading global supplier of automotive acoustical and textile solutions. A joint venture formalized this year between International Automotive Components (IAC) Group, and Shanghai Shenda Co., Ltd., the Auria launch coincided with press and industry days at the IAA Frankfurt Motor Show this September.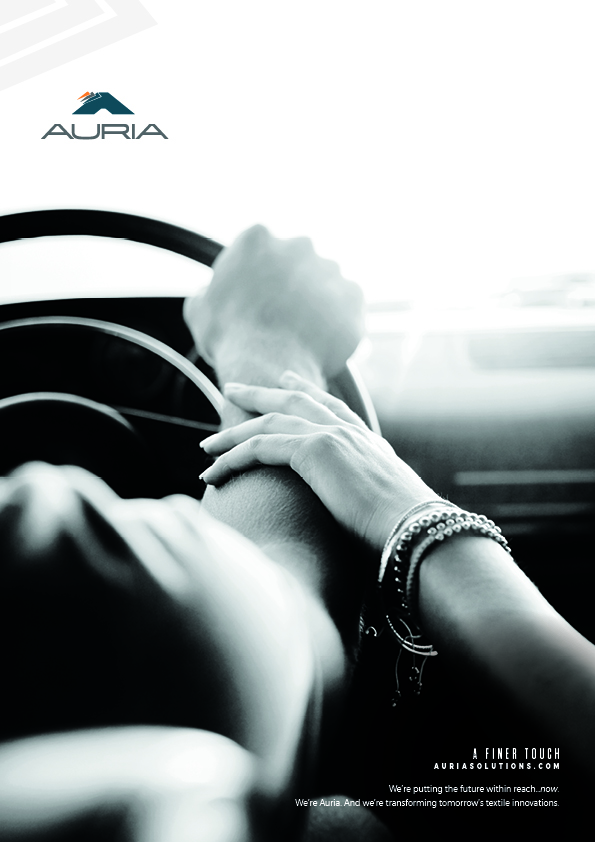 "It was an exciting experience to be involved in the creation of a global automotive brand from the very beginning," said David Kanarowski, senior vice president of Communica. "We were able to focus all of our experience and expertise in the automotive arena to make the new brand engaging and compelling from the onset."
The Auria campaign utilized a wide variety of Communica's integrated services, beginning with the naming and logo design, brand positioning, creative strategy, the creation of the ad launch campaign and strategic global media planning and placement.
"Any IAA attendee arriving internationally at the Frankfurt airport was repeatedly exposed to our Auria branding video looping on 116 screens in the baggage claim area. This placement resulted in millions of impressions. It offered a first introduction to Auria that continued with a series of advertisements placed in the Automobilwoche IAA Show dailies distributed at the Frankfurt Messe and via email to a global automotive industry audience," said Kanarowski.
The U.K.-based Auria is headquartered in Southfield, Michigan, and Düsseldorf, Germany, and operates 21 manufacturing facilities and four technical centers in 10 countries along with operational control of three joint ventures across China, South Africa and the U.S. The company estimates it will employ approximately 7,000 people and supply all of the world's global automakers, as well as several regional manufacturers. Auria's automotive product lines will include highly engineered soft trim and acoustical solutions focused on creating the comfortable automotive interior environment customers demand.
"Our products are well-suited for the the future of the industry," said Brian Pour, president and CEO of Auria. "As vehicles move toward more electrification and hybridization, lighter weight materials and a quieter cabin will become even more important, while car-sharing and ride services will require more durable flooring and trim materials to withstand increased use. Communica helped us position our brand with an intelligence and sophistication that generates awareness and interest that leads to progressive collaboration with our customers."