Posted on December 2, 2020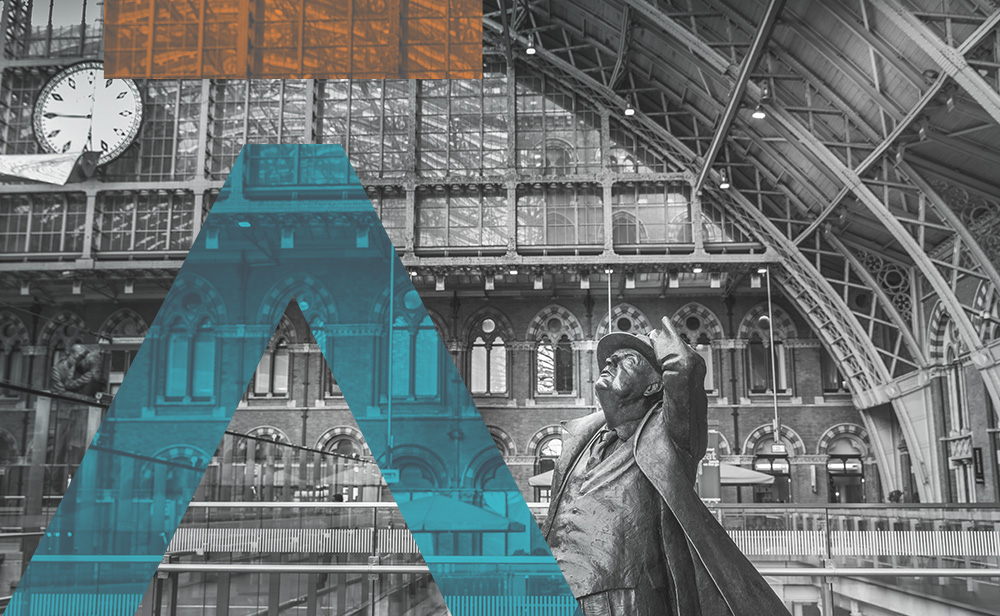 Running a business has always involved a need to adapt to change. The COVID-19 crisis just happens to be a really big and sudden change. One that's likely to have long-lasting impact.
In the B2B world, the crisis will most certainly change the way buyers buy and therefore, the way sellers sell. While none of us is looking to capitalize on the pandemic, I am reminded of this quote attributed to Winston Churchill.
"Never let a good crisis go to waste."
For marketers, the silver lining in the crisis is that these shifts present an opening for smart marketers to better attract, engage and develop customers. And get in front of competition who may not adapt as well.
Among the many changes that affect the B2B landscape are two key shifts that, when unpacked, uncover opportunities for B2B companies to pursue.
The shift from physical to virtual
While we've all incorporated virtual ways of doing business during the COVID crisis – like the 472 Zoom meetings we've attended – there are aspects of virtual business that are going to stay with us for the long-term, and B2B marketers have to recognize and respond accordingly. Here are a few of the long-term changes we've been studying:
Physical events like tradeshows, road shows, or even on-site product demos are off the table, at least for a while. With 30 to 40% of a typical B2B Marketing budget devoted to those events, this is a big deal. Marketing teams have to find ways to replace the impact on pipeline and top-line revenue. But we think this will go beyond just this year. When physical events do come back, a segment of the audience will have found that they can get what they need from educators and vendors who have mastered virtual delivery.
So B2B companies will find value by incorporating virtual events into their arsenal. These may include full-scale conferences organized by trade associations with expert speakers and "virtual exhibit halls" or self-organized webinars or educational courses. Regardless, the takeaway is that virtual events involve skills that differ from the ones B2B companies have honed over the years to manage their physical events. To be effective with virtual events, marketers will need to step up their game in some key areas: 
Database Development:

 

An accurate database is one of the most powerful weapons for sales and marketing departments. But information gets old fast, as people change jobs, customers expand, prospects change suppliers and new businesses and connections come about. Research shows that about

 

25% of the average B2B database is inaccurate. So paying attention to Database Cleansing is a big to-do on the B2B marketing list.
Managing Engagement: To attract attendees and generate qualified leads, marketers will need to develop workflow assets like emails, landing pages and registration forms, and use tools, like marketing automation and social media platforms to distribute and amplify their message.
Lead Nurturing:

 

While post-event interaction has always been critical for physical events, it's an area that many B2B companies struggle with. The post-event conversation and engagement is often left to individual sales reps and that can result in lots of gaps and inconsistencies. Virtual events will demand Marketing pay more attention to the post-event interaction, taking steps to orchestrate the interaction with leads by creating and delivering ongoing and relevant touchpoints over time. Planning and developing content becomes essential and marketing automation and other technology tools help with the mechanics.
But the shift from physical to virtual affects more than just tradeshows and events.
There's not much disagreement among prognosticators that in-person, face-to-face selling will be affected long-term. Not only because of the same travel obstacles that will affect tradeshows, but this crisis has shown that there are effective options that can make incorporating remote selling much more efficient. Companies that may have ignored or shied away from things like virtual sales meetings, self-service, online ordering and other remote selling options in the past, are now turning to them. So they now have an opportunity to upgrade their entire remote selling toolkit to more successfully bake remote selling into a permanent part of their sales process, even if things were to return to "normal".
Data from a McKinsey & Company study backs this up. B2B buyers surveyed in April weighted the importance of digital interactions almost twice as heavily (66:34) as traditional sales interactions, as opposed to before COVID-19 when the digital to traditional weighting was almost equal (48:52).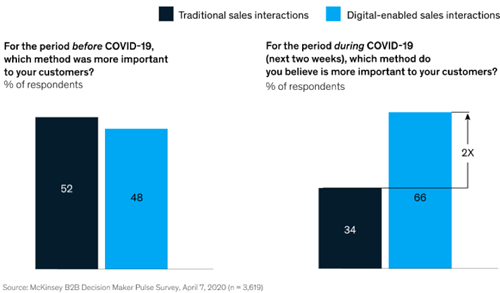 For B2B companies, this means focusing on rich digital experiences across the buyer's process. If you haven't already done so, now is the time to take a hard look at your website and other digital assets like your blog or social media platforms, and make sure they are effectively serving your audiences as they go about their research and evaluation stages. And look at your use of video. Video in B2B was already ramping up well before COVID, but it now becomes even more essential as buyers will have less in-person opportunity to see your product or meet your people.
Again, to underscore the point, the McKinsey data shows the massive shift in B2B buyers' preference for self-service channels…and this was before COVID, which has only made it stronger. You can see that from 2016 to 2019, the preference for self-service in the Research phase had flipped from 2 to 1 preference for "directed" interactions to 2 to 1 preference for "self-serve" interactions. While in the Evaluate phase, preference for "self-serve" interactions increased 120%.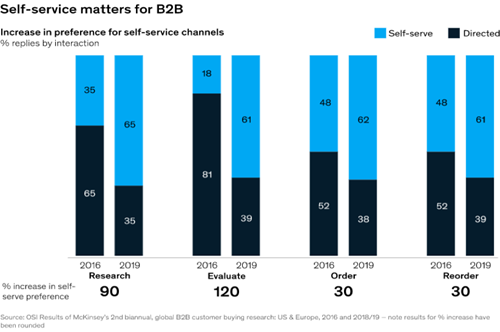 For B2B companies and their marketing teams this touches everything from presentation platforms, to website content and functionality, to integration with back-end systems like ERP.
Buyers are relying on digital interactions more than ever, and they have higher expectations than ever. The harsh reality is that they'll be quick to move away from companies that don't deliver.
The Intensification of Trust
Trust has always been important in B2B selling of course, but the crisis has exacerbated its importance for buyers. On the consumer level we see this play out in the explosion of familiar brands (e.g., Campbells Soup sales are up 59% after years of steady decline). For B2B, this will be both a response to a weakened economy, where buyers want to make sure they're working with a company that will be around, and a reflection of the emotion-driven "We're in this together" mindset that we've all been living with.
Here are the elements were focusing on to help B2B marketers strengthen their trust:
Content

 

– the crisis has put a premium on authenticity and helpfulness. Customers don't want you to "sell" them…they want you to help them buy. Which means anticipating what information they need at various points along their journey and connecting them to useful, educational, even thought-provoking insight. You've been seeing this play out in a wave of webinars, research reports and the like over the last several weeks.
Personalization

 

– as the market shifts more and more to digital interaction, B2B buyers will be demanding the same level of personalization that they get from their consumer buying. They're trained now: "If Amazon or Netflix can make it so easy for me to get what I want, then so should my business vendors." This is where B2B marketers will need to invest in ABM – Account Based Marketing – and technologies that recognize the buyer, their role, their company, their industry, even their behavior, then use that insight to deliver a personalized experience. This will go a long way toward strengthening trust.
Community Relations

 

– However you define your "community" – regionally, by industry, or by common causes – buyers are quickly placing more value on companies that are actively engaged in their community. Again, you can see this play out on the consumer side. How often have you given preference during the crisis to ordering your take-out meals from locally-owned restaurants instead of chains? Or supported companies that you learned were doing positive things for their workers or customers or community? The same thing is happening in B2B, which means pro-active public and community relations programs have become more important for B2B companies. 
Visibility

 

– It's a fact that many B2B companies cut their marketing budgets in a crisis, and this has been no exception. And while this may sound self-serving, I assure you there is

 

much research

 

from previous times of crisis or economic downturns that has documented the fortunes of companies that remained visible vs. those that did not. To the extent you are able to invest in your visibility, you should do so.
Like a lot of experts, we believe the COVID crisis is an inflection point with lasting effects. But we also believe it presents opportunities. Here's hoping you make the most of them.
Barry Rosen is a Partner and Chief Integration Officer at Communica. For more information or to speak with a Communica marketing strategist, call 419-244-7766 or email marketing@communica.world.