Posted on June 5, 2018
Lee Industries is a leader in the design and manufacturing of stainless steel and alloy process equipment for the food & beverage, pharmaceutical & biotech, personal care, cosmetic and cosmeceutical, animal food and health, and the industrial and chemical industries.
The team at Lee Industries carefully developed a database of over 1,500 food processing prospects, containing a wealth of company data, including two key contacts for each company. Despite the immense amount of data, they had a very small fraction of email addresses, certainly few that had opted in to Lee's various email streams. Our team artfully crafted food processing thought leadership content to reach these prospects online. How do we deliver this content without email addresses? Our research landed on LinkedIn's Matched Audiences platform.
LinkedIn's Matched Audiences platform allows you to perform account-based targeting by securely uploading a CSV list of company names, and match that against the nearly 12 million company pages on LinkedIn. From there, you can use LinkedIn's detailed filtering system to hyper-target the specific profile types you'd like to reach. For Lee, this was an ideal solution to target a list of specific accounts. We uploaded the 1,500 company names and had a match rate over 90%. We then set up two different campaigns:
Sponsored Content:
Sponsored Content campaigns allow the opportunity to promote company page status updates to a targeted list of prospects. For Lee, we used Sponsored Content to promote education-based food processing content.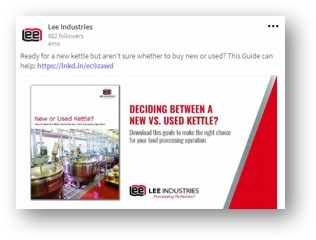 Our approach was strategic, yet simple. We created Sponsored Content updates in LinkedIn, promoting a whitepaper, and directed users to a customized, Lee-branded landing page where we asked for basic information about the user for lead generation. To make this seamless for the user, we added a LinkedIn AutoFill button to the form where the user can click once and pre-fill the form with their LinkedIn profile information.
This type of approach resulted in:
Exposure to over 93,000 LinkedIn members who matched to the company database
A 15% increase in the number of followers on the company's LinkedIn page
Dozens of new leads generated through form submissions
A click through rate more than double the industry average (0.53% compared to 0.25%)
Sponsored InMail:
Sponsored InMail campaigns provide companies with the opportunity to reach prospects in a personal manner. Using Sponsored InMail, you can send direct messages to prospects on behalf of the company or a specific user. This provided an opportunity to personalize a content series called Food Processing Advisor, which focused on specific food processing challenges and solutions. We created unique versions of these pieces for each Lee sales engineer with their picture and contact information integrated into the design.
Once the content was ready, we used LinkedIn's Matched Audiences to upload the food processing database and created three separate campaigns for each sales engineer. We filtered each campaign to reach only the territory managed by each engineer. Then, we crafted a personalized InMail with that sales engineer's salutation and directed the prospect to a landing page which also included the engineer's personal information and a form to obtain a copy of their version of the Food Processing Advisor piece.
From the initial message through the conversion, the prospect is connected to the specific sales engineer, creating a seamless and distinct experience.
This type of approach resulted in:
 Open rates averaging nearly 60% (According to Mailchimp, the average open rate for emails in the manufacturing industry are 21.74%)
Produced an average click through rate of 2.4% across all campaigns (LinkedIn average is 1.5%)
By using LinkedIn's powerful targeting platforms, Lee can feed the top of its sales funnel with highly qualified leads. From these, our ongoing content and funnel management program can nurture and sustain engagement with these leads as they advance through the funnel and toward becoming a Lee customer.